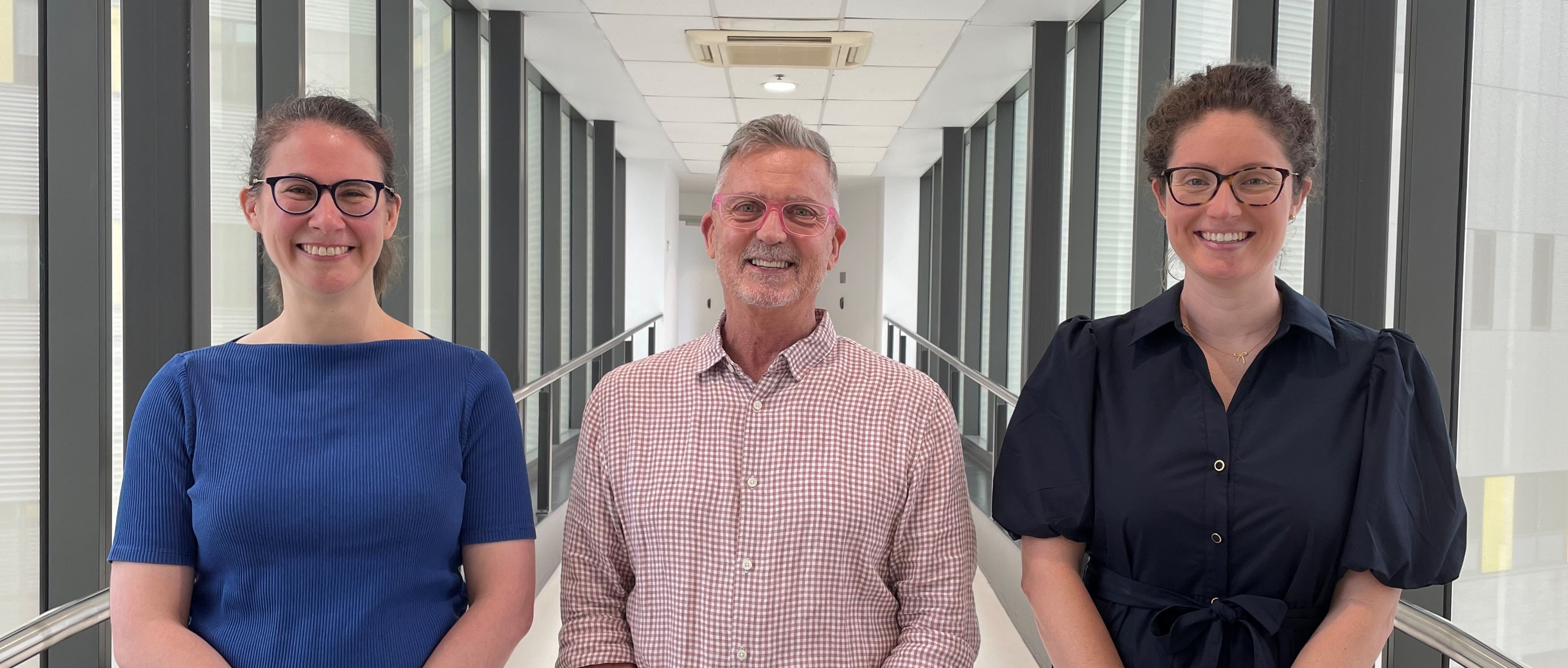 In an exciting announcement, three clinical research fellows have been appointed within the Northern Sydney Local Health District (NSLHD).
The positions are part of an initiative developed by the University of Sydney's Faculty of Medicine and Health Northern Sydney (Arabanoo) Precinct and the NSLHD.
The new roles will drive interdisciplinary research activity, develop research capabilities and increase opportunities for research training of staff.
The successful applicants include Senior Research Radiation Therapist Dr John Atyeo, Senior Physiotherapist Dr Louise Hansell and Clinical Nurse Specialist Julia Pilowsky.
Over the next two years, the fellows will pursue their individual research projects, while also collaborating on an interdisciplinary research initiative focusing on functional wellbeing.
Professor Robyn Ward, University of Sydney Executive Dean, Medicine and Health, said we are pleased to welcome John, Louise and Julia to their new clinical research fellow roles and look forward to watching them develop their research and leadership skills, and collaborative research opportunities.
"We expect the increased engagement in research and strong partnerships will help drive progress, while improving the delivery of healthcare to the wider community," she said.
Interim NSLHD Chief Executive Lee Gregory said the fellows will continue their clinical roles within the district, and will now also have time to pursue their individual and collaborative research interests.
"We are pleased to be able to provide funding for the dedicated research time as we know that having specific blocks of time for investigative projects has historically been one of the barriers to the expansion of research activity and impact," he said.
"We are sure this group will help extend our research capabilities and strengthen the culture of quality research across the local health district and the university."
The fellows have embraced their new roles.
Dr Louise Hansell has worked as a physiotherapist for 13 years, with a focus on acute respiratory care.
"Having recently submitted my PhD, I was uncertain how I would use my newly developed research skills in future research. This role emerged at the perfect time, and provides a great opportunity to engage in clinically focused research," she said.
"I am passionate about providing patients with high quality, evidence based respiratory care.
"My PhD investigated the use of lung ultrasound by physiotherapists in the critical care setting. Lung ultrasound is a novel but accurate assessment tool to enhance respiratory diagnostic ability and clinical decision-making, resulting in more appropriate and effective respiratory treatments.
"This new role will provide me with the chance to continue my research in this area. I am also excited by the opportunity to collaborate with staff at both the university and the health district, and with Julia Pilowsky and John Atyeo, my clinical research fellow peers, as we embark on a multidisciplinary research venture together."
Dr John Atyeo works in the Department of Radiation Oncology at the Northern Sydney Cancer Centre, driving Radiation Therapist led research.
He is delighted to be one of the new fellows.
"My first reaction was one of surprise, followed by a great deal of joy and excitement," he said.
"I feel incredibly honoured to have been offered this position as it will give me the time to pursue my research interests and further my research career.
"The position will also allow me to work with two other highly motivated researchers to make a difference to the research culture throughout the district, and ultimately improve the health outcomes for patients in our service.
"Through this new role, I will have the chance to work closely with a mentor to progress my clinical research through grant applications, presentations and publications.
"I will also have the opportunity to work with the other fellows to develop and implement a district wide multi-disciplinary research project.
"This project will enhance the knowledge and skills of individuals and teams new to research, as well as established researchers, and build on the thriving research culture across the district."
Julia Pilowsky works in the Intensive Care Unit at RNSH. Her research involves understanding how mental health disorders impact patient outcomes during and after an ICU admission, and how clinicians can better support these vulnerable patients.
She is also developing techniques to use the information in clinical progress notes for research and quality improvement purposes.
"I was so excited when I found out that I had been offered the clinical research fellow position," she said.
"A role that provides clinicians with dedicated research time is extremely rare in nursing, so I am very grateful for the opportunities that this role offers.
"I can't wait to start collaborating with all the amazing clinicians and researchers across the district and the university to produce high quality research that can be embedded in clinical practice to provide meaningful benefits to our patients."
Funding for the roles has been provided by the University of Sydney and the NSLHD.