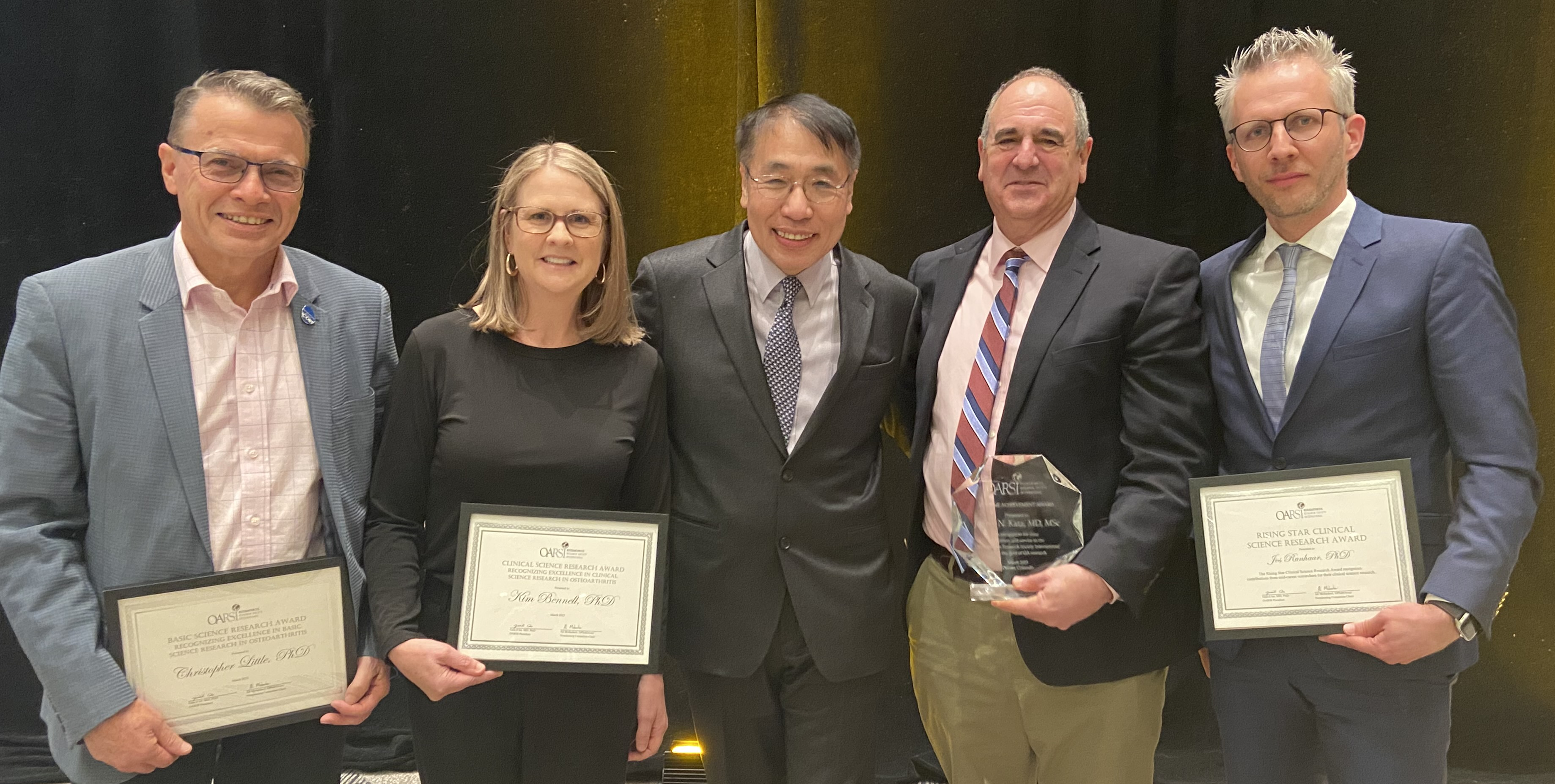 In a sign of the international impact of our research at the Kolling Institute, a prestigious award has been presented to Professor Chris Little during the World Congress on Osteoarthritis in Denver, Colorado.
More than 700 researchers and clinicians attended the event where Professor Little was presented with the 2023 Basic Science Research Award by the Osteoarthritis Research Society International (OARSI).
Chris, who is part of Sydney Musculoskeletal Health, said he was delighted and honoured to receive the award, which acknowledges outstanding research and progress.
"OARSI is the premier international organisation dedicated to osteoarthritis research, so it is a particularly great honour to receive this award recognising our discovery science into this debilitating disease," he said.
Osteoarthritis is a major cause of individual pain and disability worldwide, and is the number one disease contributing to healthcare expenditure in Australia.
There are currently no treatments to halt osteoarthritis progression and long-term management of associated pain is very poor.
"We will only be able to develop new treatments once we have a better understanding of the cell and molecular mechanisms that initiate and drive osteoarthritis joint damage and pain.
"The basic science research that my team and I have been recognised for is influencing the models that are used worldwide to improve the translation of basic science discoveries to new treatments.
"Our research is making these models more predictive and identifying specific patient groups where the therapies will be effective.
"We hope that this will have a major impact on osteoarthritis discovery and drug-development research.
"As the Kolling Institute is located on a healthcare campus at Royal North Shore Hospital, we have the privilege of interacting closely with clinicians, surgeons and the osteoarthritis patients they manage.
"Importantly, this influences the type of basic science research we do, and ensures that we are addressing the problems our clinicians and patients face in trying to manage osteoarthritis.
"The OARSI award is recognition by the osteoarthritis research community that the work we are doing is relevant and important, and I'm thrilled that it's highlighting our exciting progress and my extraordinary team."