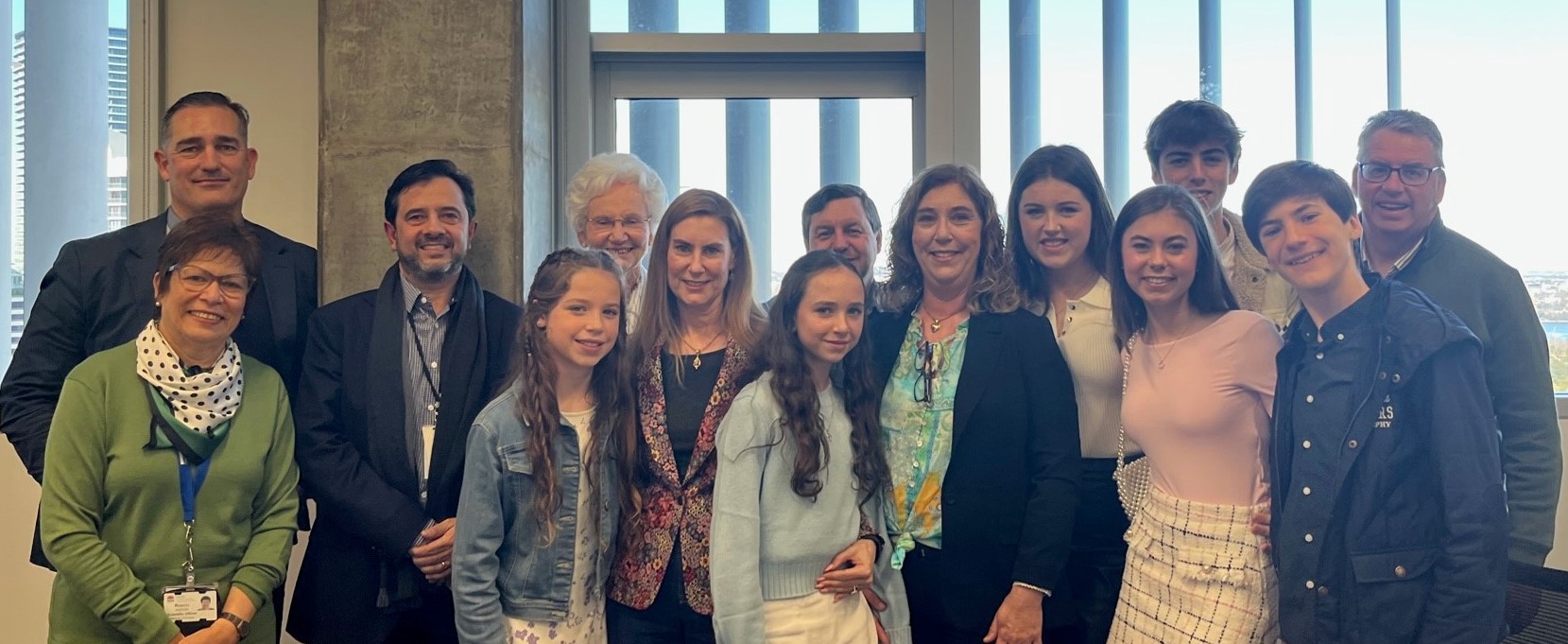 The Kolling Institute hosted a special visit by the family of the late Bill Walsh who donated vital funds to establish a cancer laboratory within the Kolling.
His family, including his wife, daughters and grandchildren visited the lab to maintain their strong ties with the research team and meet with Academic Director Professor Jim Elliott.
Established in 1980, the Bill Walsh Cancer Research Laboratory now has more than 20 members driving progress in pancreatic, lung, ovarian, Mesothelioma, brain and breast cancer research.
The team is at the forefront of discovery, respected for its contribution to our understanding of specific cancers and improvements in care.
Professor Elliott said the visit by Bill Walsh's family provided the chance to highlight the impressive team and the state of the art facilities.
"It also gave us the opportunity to remember Bill Walsh's extraordinary efforts raising funds for research and those experiencing cancer," he said.
Bill Walsh was diagnosed with terminal cancer in 1975 and was one of the first people to be treated with chemotherapy at Royal North Shore Hospital.
During his treatment, he discovered that funds for cancer research at the hospital were very low.
He was frustrated with the lack of hope for those with cancer and wanted his two young children to have a better chance of survival if they developed cancer later in their lives.
Determined to raise money for a cancer research unit, he organised the Bill Walsh Art Union, where he raised almost $500,000.
It was the most successful art union to date and the largest single donation to the hospital at the time. In 1978, he was awarded the British Empire Medal for services to the community.
Bill Walsh died in 1979 and didn't see the realisation of his dream, the Bill Walsh Cancer Research Laboratory which had been made possible as a result of his efforts.
Professor Elliott said Bill was an inspiration and one of the great pioneers of fundraising for cancer research.
"His courage in the face of adversity led to hope for many people with cancer.
"I would like to thank Bill Walsh's family for taking the time to visit the Kolling and the cancer research lab, and I'd like to encourage other families to consider supporting our crucial translational research."
Royal North Shore Hospital Director of Oncology and cancer specialist Professor Nick Pavlakis also thanked Bill Walsh's family, saying Bill's contribution has had lasting benefits.
"The Bill Walsh lab has been an important asset not just in integrating the Royal North Shore Hospital clinical teams with lab based research activity, but in introducing many young cancer specialists to lab and translational research, which has put many on the path of ongoing cancer research careers."
If you would like to donate to our research, please contact the NORTH Foundation, our fundraising partner.